eShop Sales Report Plugin adds comprehensive Reporting power to your all Reporting needs, it has everything you need in cart Reporting system, Exhaustive Dashboard summaries, Variation, Coupon Reports plus many analytical reports like Top n Customer, Top n Products, Top n Coupons, features like Data Drill Down, Auto Email Reports, 8 Different Crosstab Reports gives you a complete overview of your sales. It also has various Filter options to get better control on Reports.
eShop Sales Report Plugin works with eShop latest versions (3.8.6).
Gold Version Features:
Responsive Layout
More Summary Details on Dashboard
Advance Filters
Customize Columns
Export to Excel
(Presently this supports English language)
Online PDF Generation
(Presently this supports English language)
Stock Summary
Theme Color
Crosstab Reports


Generating crosstab reports, Product Monthly Cross tab summary with quantity, amount
Product Variation Reports


Based on product custom fields in eShop, for example if you have an online cloth store selling "T-Shirt" Product and need further classification of Product sales summary by Size, Color, "T-Shirt, 40″ Size, Blue Color"
Reports linked with Google Analytics


Generating reports based on Google Analytics
Auto Email Reporting*
Get daily, weekly, monthly sales details or any other reports in your email on daily basis automatically*. Email will be triggered when someone visits site.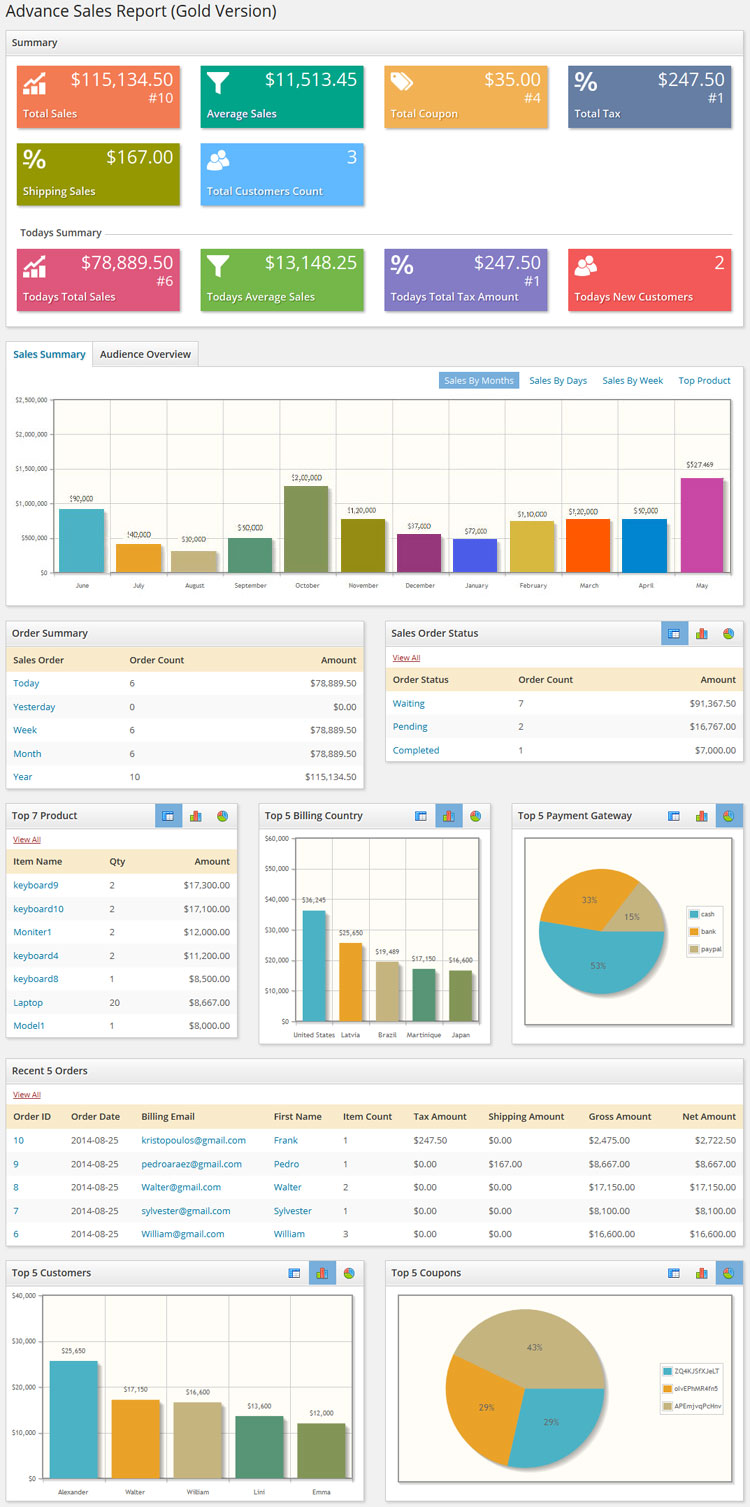 Features
Basic Version
Pro Version
Gold Version

US$99

US$139

US$199

Key Sales Indicator


(Total sales, Total customer plus many more)

Basic Graph
Dashboard Summary


(Recent order, Top product plus many more)

Data Drilldown
Export To CSV
Custom Setting
Advance Graphs


(Pie chart, Line chart and Bar chart)

Responsive Layout


(Better view on mobile , tablets)

More Summary Details, Features on Dashboard
Advance Filters
Export To Excel


(Presently this supports English language)

Print Reports
Online PDF Report Generation


(Presently this supports English language)

Add Company Logo on Report PDF
Customize Columns


(Select fields for Screen, Export, shipping, billing details etc)

Stock Status Summary Report
Theme Color
Cross Tab Report
Variation Report
Reports Linked With Google Analytics
Auto Email Reporting*

US$99


Buy Now

US$139


Buy Now

US$199


Buy Now

Ask for custom feature additions like Email Reports, Abandoned Cart Reports etc. Click here to let us know your custom requirements.

Testimonials

We were thrilled when InfoSoft helped us take the robust Variation Reporting tool and enhance it to fit our unique needs for our Woocommerce store. That was beyond our expectations in terms of cost savings and the speed with which we accomplished our goal.
What we appreciated most about working with Deepak & his team was their lightning fast responses, consistent project updates & delivery of the expected results & then some. There isn't another Woocommerce sales reporting tool on the market that could even compete.

Staci Crisci,
President, Rip Kings

The plugin works very well. The customer service was outstanding. They helped me customize it to my needs. I'll recommend this in the future!

Becky Cook,
Executive Vice President,
Client Solution Innovations

The WooCommerce Report Plugin was the exact solution that my client needed. We love the exporting features. When I inquired about customizations, Deepak ensured that they were integrated and available for me right away and provided excellent customer service. We would recommend this plugin to anyone who needs expanded and flexible functionality for their WooCommerce reporting.

Jennifer Hood,
Underscore Solutions

The reports software allows a thorough look into recent and long-term activity on overall sales. We love the layout of the dashboard.

Chad King

This sales plug-in is amazing. Great interface, really clear and concise and not to mention the amazing and rapid support from Deepak and his team. Would highly recommend.

Alex Cowan

The WooCommerce Reporting Plugin has proved invaluable for my client. We've run into a couple of configuration issues, but customer support has always been very quick and helpful, providing guidance and updates in a timely manner. Their conscientiousness is much appreciated.

Alex

We had very specific requirements from this plug in for our Wordpress ecommerce site, and Deepak and the Infosofttech team responded to all our requests with great courtesy, patience and efficiency to provide a perfect solution to our problem. I would have no hesitation in recommending their services to others, or using them again for future projects.

Susan Williamson


Custom Development
Signup for Product Update