Setting Opening Stock:
From this module user can "Set opening stock quantity" for each product for inventory.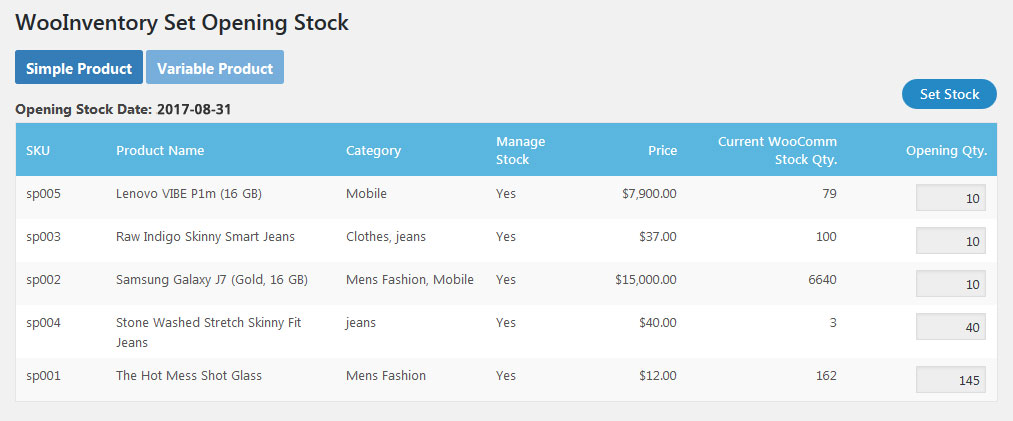 Purchase Entry:
In order to increase stock qty user needs to make a Purchase Entry, this will increase your available stock in WooCommerce Stock Quantity.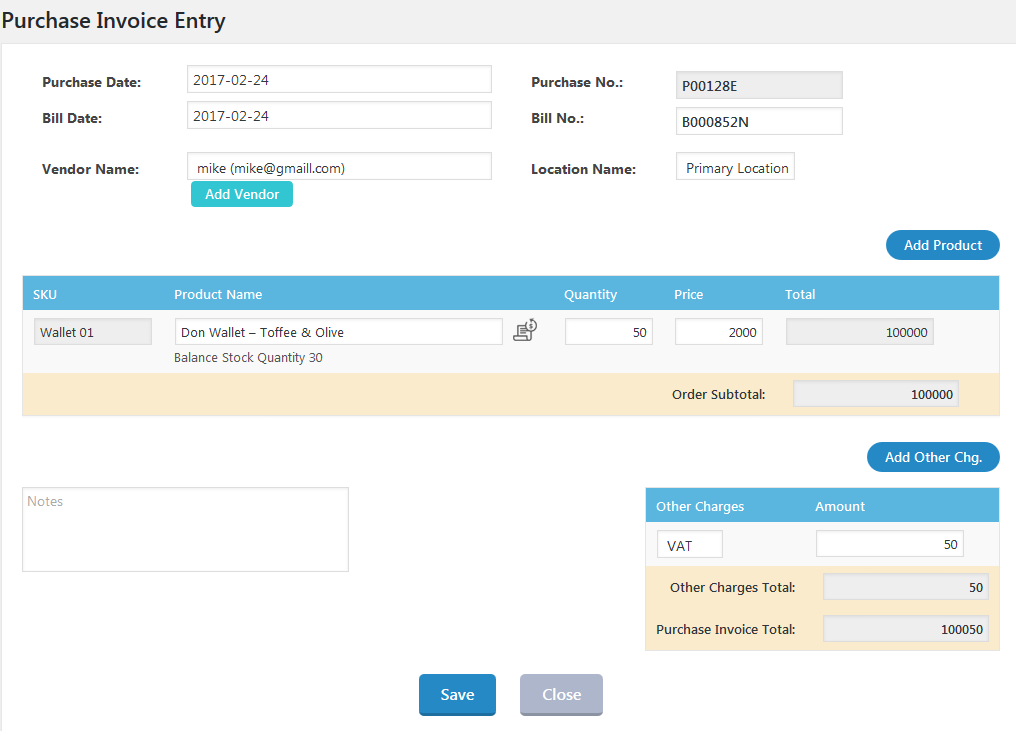 Stock Adjustment Entry:
User can make various stock adjustment related entries for Sales Return, Purchase Return, Damage etc.
No need to pass any Stock Adjustment Entry for Refunds as this is automatically taken care of and respective Stock Adjustment Entry is getting generated.

Product Ledger:
In WooCommerce Inventory Management plugin Product Ledger will give user every transaction details for a given Item/Product so that user can get complete idea on how a particular stock figure is derived, this will list date wise every Purchase, Sales, Stock Adjustment entries.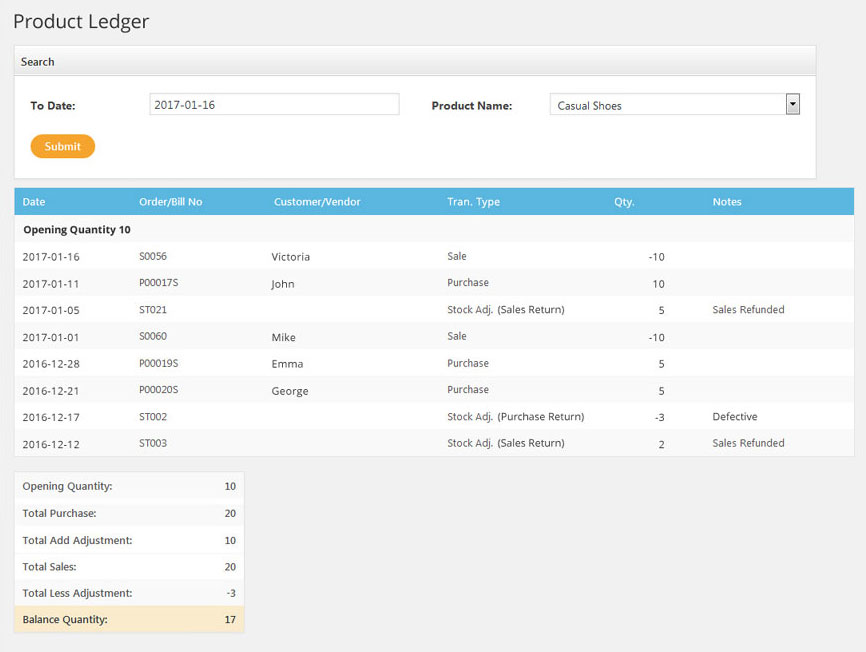 Stock AS ON Report (back dated stock position):
This is one of the very strong feature of WooCommerce Inventory Management plugin, here user can get stock position report for any given period, user can get stock position report as on say Aug-01-2017 or as on Aug-31-2017, AS ON Report will calculate stock position of all items considering all related transactions for a given period.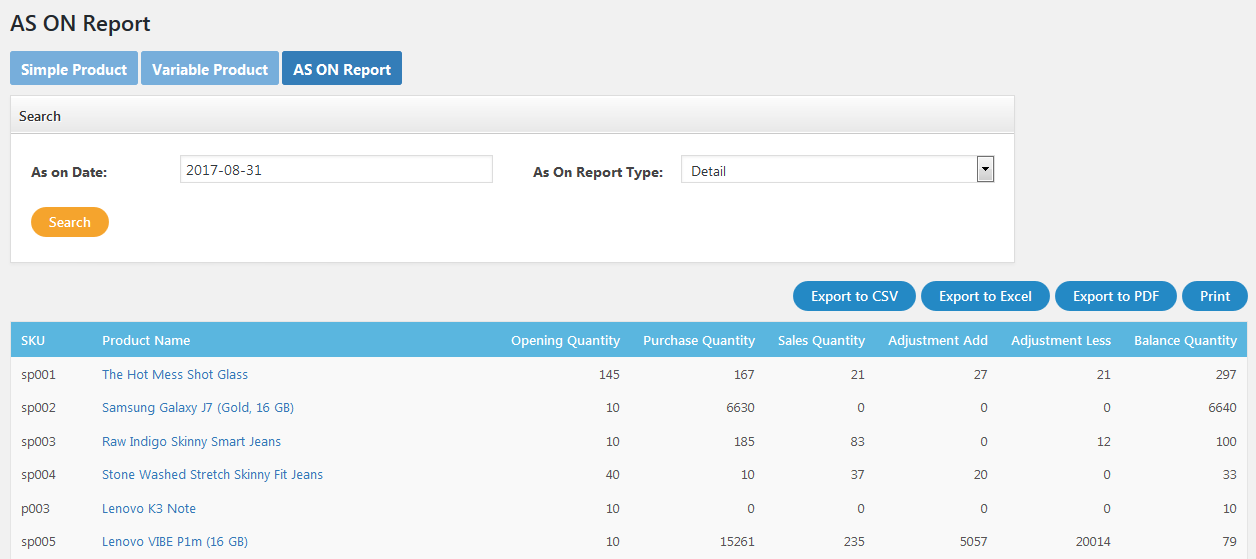 Stock AS ON Report with Value:
Stock Valuation will give user "Valuation at Retail" and "Valuation at Cost" according to "Balance Quantity" of Items in list.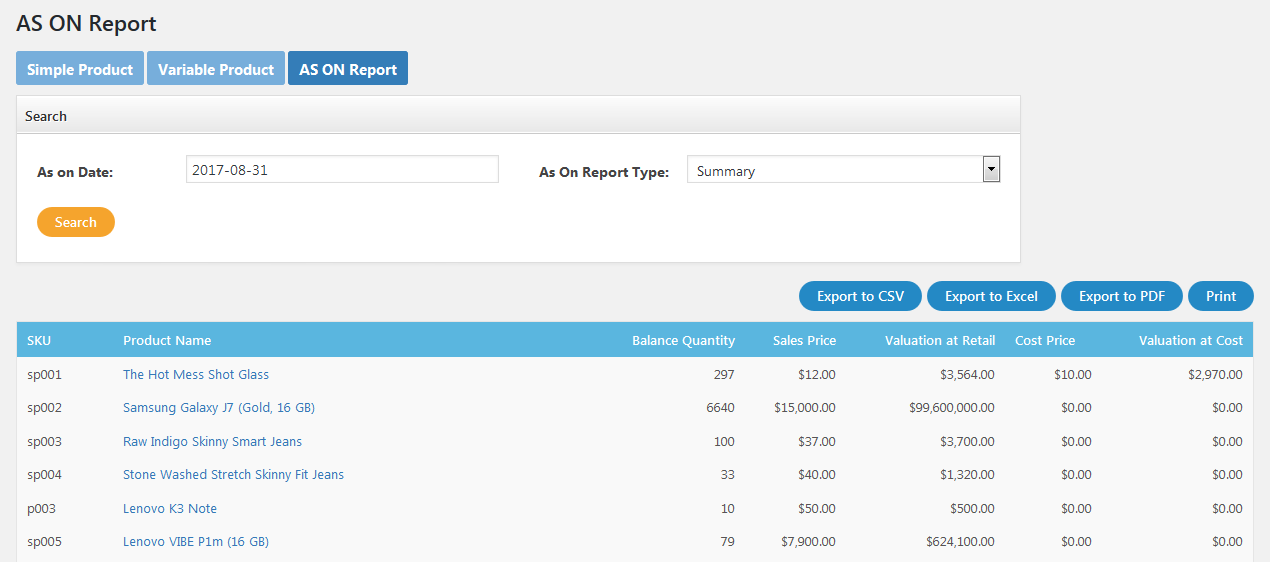 Stock Planner
In WooCommerce Inventory Management plugin this report will help user plan their stock orders, this will calculate average sales for a given period and will check the present stock position; then accordingly report will calculate for how many days your present stock will last so that user can plan when to place purchase order for same.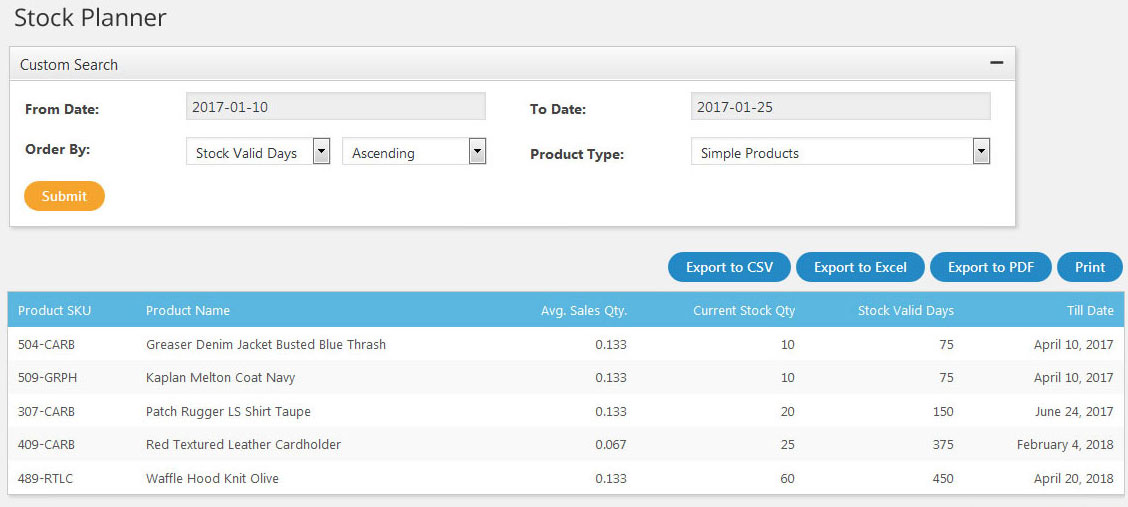 Testimonials

We were thrilled when InfoSoft helped us take the robust Variation Reporting tool and enhance it to fit our unique needs for our Woocommerce store. That was beyond our expectations in terms of cost savings and the speed with which we accomplished our goal.
What we appreciated most about working with Deepak & his team was their lightning fast responses, consistent project updates & delivery of the expected results & then some. There isn't another Woocommerce sales reporting tool on the market that could even compete.

Staci Crisci,
President, Rip Kings

The plugin works very well. The customer service was outstanding. They helped me customize it to my needs. I'll recommend this in the future!

Becky Cook,
Executive Vice President,
Client Solution Innovations

The WooCommerce Report Plugin was the exact solution that my client needed. We love the exporting features. When I inquired about customizations, Deepak ensured that they were integrated and available for me right away and provided excellent customer service. We would recommend this plugin to anyone who needs expanded and flexible functionality for their WooCommerce reporting.

Jennifer Hood,
Underscore Solutions

The reports software allows a thorough look into recent and long-term activity on overall sales. We love the layout of the dashboard.

Chad King

This sales plug-in is amazing. Great interface, really clear and concise and not to mention the amazing and rapid support from Deepak and his team. Would highly recommend.

Alex Cowan

The WooCommerce Reporting Plugin has proved invaluable for my client. We've run into a couple of configuration issues, but customer support has always been very quick and helpful, providing guidance and updates in a timely manner. Their conscientiousness is much appreciated.

Alex

We had very specific requirements from this plug in for our Wordpress ecommerce site, and Deepak and the Infosofttech team responded to all our requests with great courtesy, patience and efficiency to provide a perfect solution to our problem. I would have no hesitation in recommending their services to others, or using them again for future projects.

Susan Williamson


Signup for Product Update